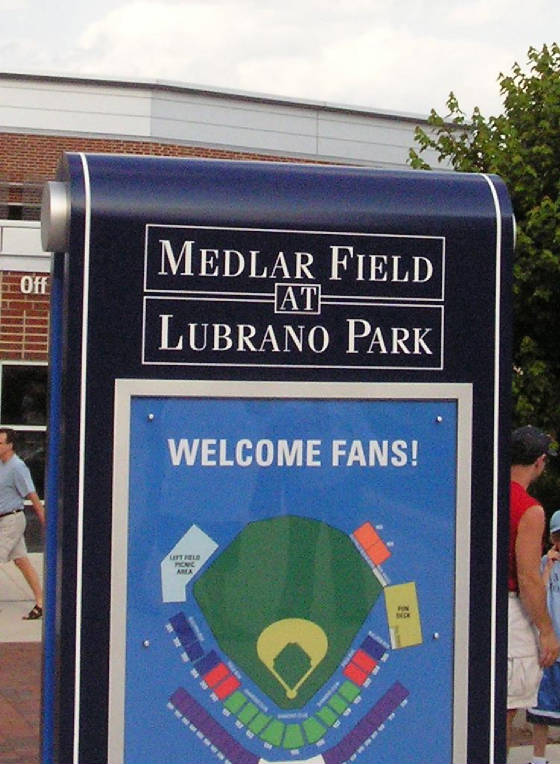 TEAM ::: STATE COLLEGE SPIKES
LOCATION ::: UNIVERSITY CITY, PENSYLVANIA
MY FIRST VISIT ::: JUNE 21, 2008
OPPONENT ::: AUBURN DOUBLEDAYS
LEVEL ::: NEW YORK - PENN LEAGUE 'A'
RATINGS
BALLFIELD ::: A
SCOREBOARD ::: A
FOOD ::: B
FACILITIES ::: B
MASCOT ::: B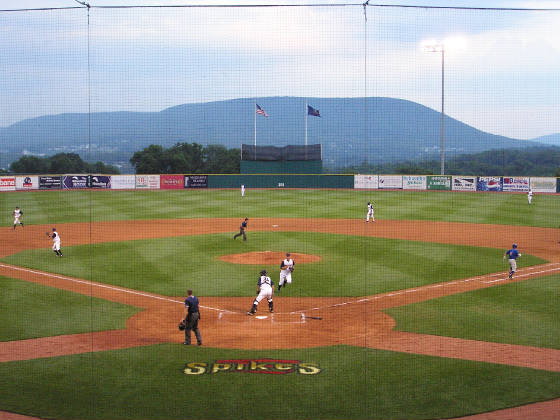 MY TAKE ON THE PARK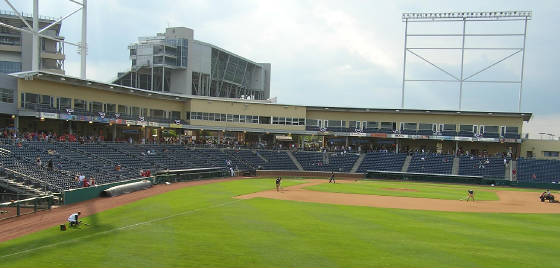 Located right across the street from Beaver Stadium, home of the Penn State Nittany Lions rests Medlar Field at Lubrano Park, home of the State College Spikes. Once the car is parked however, all of that is left behind and the only thing to conentrate on is just how amazing this small park is.

It is hard for me to find any critisicm of Medlar Field at Lubrano Park, everything here is done right. Locating right next to a football stadium gives baseball fans plenty of parking, $3 to park here but it is a paved lot and is ample. Infrastructure is all set up to handle the large crowds, so handling 5000 NY Penn League fans is not much to ask.
Once inside you are almost taken aback at the beauty and the enormous space of this park. The park immediately reminded me of Altoona without the second deck. The seating area is one level with an enormous concourse area filled with picnic tables and small bar like tables where you can stand and eat but still see the game. The selection of food is standard ballpark Hot Dogs and Sausage to a Mexican stand on the 3rd base side. $5.25 will get you a Sausage Sandwich, or a Mike's Hard Lemonade. The food was OK, but I had plenty of room to eat it.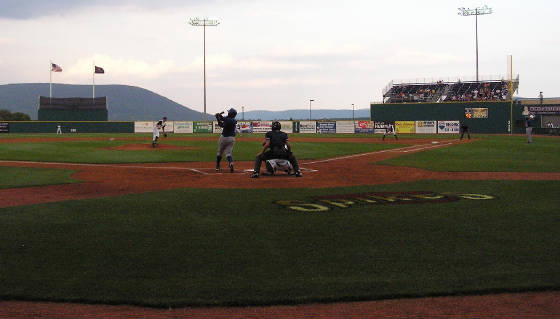 Once into the seating area, Amazing!! .. The amount of leg room here is just unbelieveable. The Diamond Club seats, which run from the far ends of the dugout and make up a majority of the park are currrently $11 have so much leg room people can walk in front of you without any disruption. I was a bit taken aback by the price, but if you are going to give me all of this leg room, I will gladly pay the extra $2 for comfort. Could I possibly complain that I had to reach for my beverage in the cup holder which in some parks would be the same distance as two rows in front of me? (See Buffalo)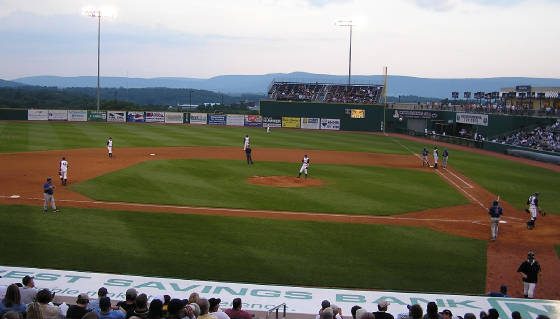 With all of the comforts and space, I just knew the game would be handled poorly, something had to give here. I was wrong, the game is handled almost better than the rest of the park. Between inning promotions are simple, quick and to the point, it almost seems some teams have gone to inventing there own games which are confusing and border line silly. Not here, 4 people are on the field and they are off before the umpire puts up the two more pitches signal.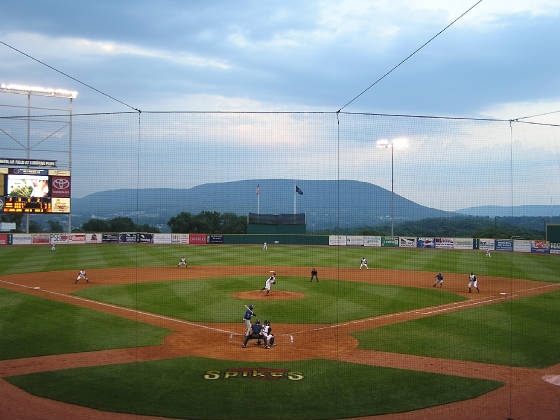 Finally the view, the park is situated on a hill so behiond the outfield wall there is nothing but a moutain in the distance, Pennsylvania's natural beauty is the backdrop for the Spikes. Nothing man made, just nature. It is very relaxing.
The Spikes, it appears, needed to add seats to this park because in right field there appears to be an added bleacher section in fair territory. If this was added it fits in well and gives the RF wall a Pitch Speed location.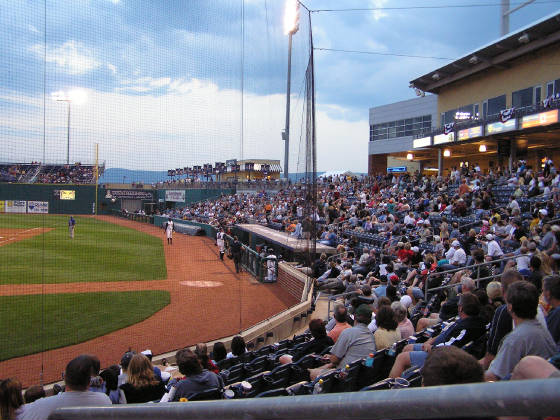 An evening with the Spikes is an evening I hope to have again soon. Located about 40 miles north of Altoona and I believe owned by the same group, this area does baseball very right. The concept of Altoona for double A is toned down just a bit for Short Season but the idea works. Space and plenty of it, a children's area not to be a destination, but a place to go when the kids get restless.
The other aspect are the light towers, a few standard towers but a few other wide towers with a single row of lights which give a unique view to the park. Medlar Field at Lubrano Park, baseball luxury in State College, Pa.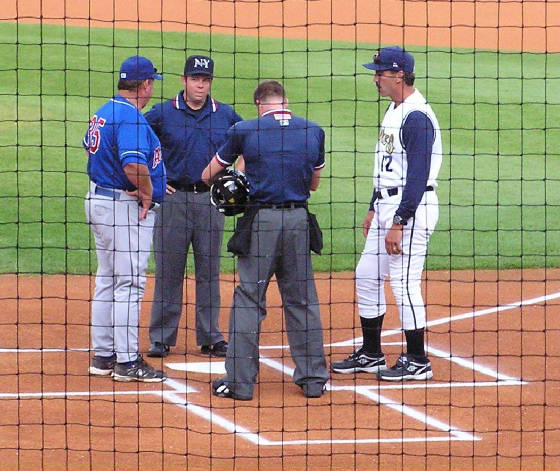 THE LINE UPS

Auburn Doubledays Manager :::
# 35 Dennis Holmberg

State College Spikes Manager :::
# 35 Brad Fischer
AUBURN DOUBLEDAYS
2 Chris Hopkins lf
1 Chris Demons cf
15 David Cooper 1b
16 Luis Rivera dh
21 Brian Van Kirk rf
12 Carlos Vasquez 2b
6 Leance Soto 3b
33 Joel Collins c
4 Bryan Kervin ss
31 Castillo Perez p
7 Frank Gailey LP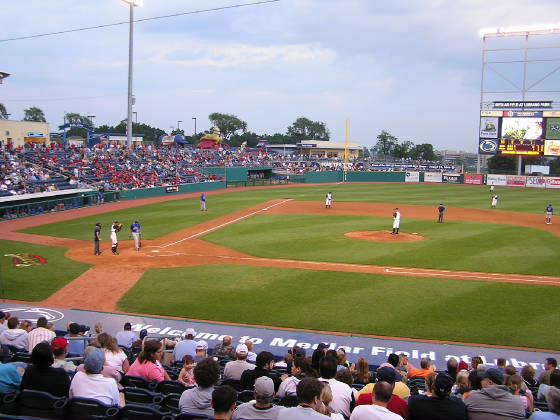 STATE COLLEGE SPIKES
15 David Rubinstein cf
50 Silvio Pena 2b
47 Jordy Mercer ss
44 Calvin Anderson 1b
31 Butch Biela rf
43 Chase D'Arnaud 3b
24 Mark Carver c
18 Matthew Payne dh
5 Ciro Rosero lf
7 Ryan Kelly p
10 Alan Knotts WP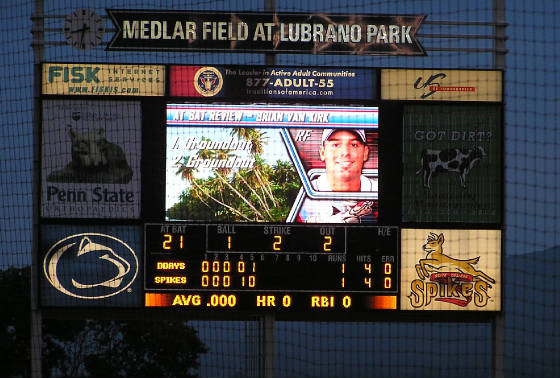 DOUBLEDAYS 000 010 000 00 1 4 0
SPIKES 000 100 000 01 2 8 0
TIME ::: 2:41
ATTENDANCE ::: 5,083
WEATHER ::: 81 PERFECT
SEND ME AN E-MAIL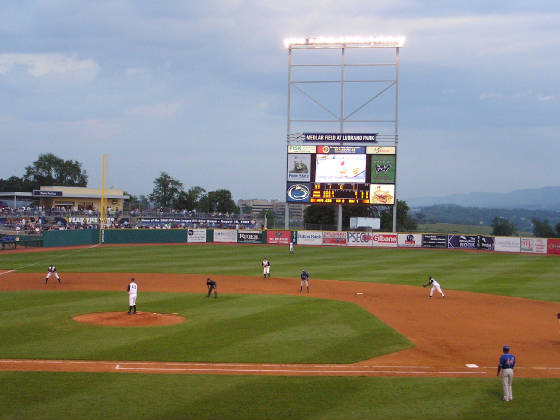 LINKS
The Official site of the State College Spikes
The Official site of Penn State University
University Park weather from WEATHER.com
Page Last updated
© 2000-2012 UNCLE BOB'S BALLPARKS
I AM IN NO WAY AFFILIATED WITH ANY OF THE TEAMS ON THIS PAGE ... THIS
PAGE IS MEANT FOR INFORMATION PURPOSES ONLY.